Photostyle your Wedding Day – 15 photo tips to make your wedding day picture perfect.
While building my wedding photography business, I recognized there has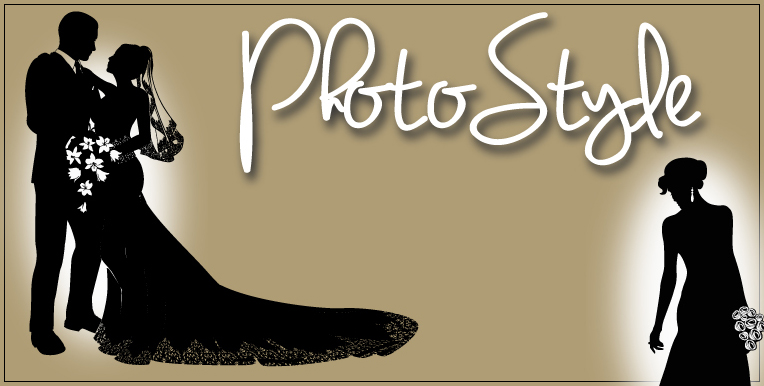 been one recurring theme. Every one of my couples wanted to make their wedding day photographs memorable. I always felt it was my job to capture their dream with my style of wedding photography. My style, as well as, many other wedding photographers, is about telling the story of the wedding day through photostyled story telling elements. The more elements I can photograph the better.
Why is photostyle important to your wedding photos? As a photographer, my style is to capture the story of your wedding day and you with consistent photos, and album, that represent your wedding day. It's not about 5 perfect photos but a whole album of photos that look like they belong together.
So what are story telling elements, and what is "photostyle"?
Story telling elements are elements that say something about the wedding day. Photos showing emotions of the day from happy laughing to happy crying are examples of these elements. Other story elements are the details. Details that show the color palette used or the style of the day are just a couple of illustrations.
If you are having a rustic wedding, the center pieces might be in a rustic theme. This would be great to capture to provide a rustic theme to the photographs and wedding album.
Photostyle is adding an exact consistent predetermined style to everything during the wedding day. It is also making sure you have a complete meaningful story of your wedding day. So what can you do to provide more phototstyled story elements for a wedding photographer to photograph?
Well, here are some wedding day photography tips you can add to your planning today.
1. Think about lighting
Lighting is the number one element needed for a photograph. Talk to your wedding photographer and look over his or her work. Do they use more natural or flash lighting? When planning your day, look at all the locations involved in your wedding day: the hotel, the salon, the church and the wedding reception venue. Look for locations that have ample light opportunities. As a bride and groom, if you are a huge fan of natural light photography, identify venues with an increased number of windows and look overall bright. Hotel rooms with lots of windows are great for those getting ready photographs and great for your makeup artist.
Now, I understand sometimes the perfect wedding venue might be the darkest place in town. Well, it happens. Talk to your wedding photographer about how he or she will handle this. There are many photographers that will bring extra portrait or fashion lighting to the venue to supplement the reception lighting. Keep in mind there are some photos your wedding photographer may want that the dark rooms are perfect for.
My studio is located in Columbus Ohio.  There is a venue in town called The Columbus Athenaeum. It is a great venue but is it very dark. There is a room called the Oak Room.  As you can guess the walls are covered with very dark oak wood, and I think there might be one window in the entire room. I have to bring 2 lights I keep off-camera to make that first dance shot have the bright romantic look I am known for. I have had many brides and grooms book this location and I always talk to them about how I handle the lighting at this venue.
2. Choose a Style for Your Wedding Day
Don't worry; I am not telling you to choose a cheesy theme for your wedding day. I am talking about a general look and feel to the wedding day and decorations. Most couples have already done this without giving it specific thought.
Why is thematic styling important?
Theme and style can set the tone for your choice of decor, flowers, photography and even your wedding album. Giving a more defined style to a florist, photographer and make-up artist can let them know exactly where to start. Here are some examples:
Rustic
Modern
Romantic
Vintage
Fun Party
Drink Fest
Simple
These are a little vague, which is ok.
Here are some options below from some of my couples that are a little closer to a "theme"
Dinner and Dancing
Wine Tasting
Fourth of July
Ohio State
Star Wars (Yes, they did star wars. LOL… Nonetheless, it was great.)
3. Extra Photo Shoot Locations
Many times a wedding ceremony might take place in the church a bride or groom attended while growing up. This does not always mean it is the best looking venue but is something that is sentimental to the family. Reception venues might be perfect for budget and location; however, it may lack some photostyle elements. When situations like this arise, I talk to couples about scheduling time after the ceremony to go to a different location. I like to look for locations that match my preferred lighting, and are near the church or reception venue while keep in mind the style of your wedding. Heading downtown to a modern area may not look good if you have an overly rustic wedding. A park or even a field might be a much better spot for your photo shoot. So work with the photographer on locations that make sense to your overall style.
4. First Look
Not every photo is about capturing details. I considered it tied with emotional moments. If you cry at a wedding I am talking your picture, because it is usually such a sweet moment to remember. That does not mean you have to create moments to illicit tears. There are many moments during a day that make for great picture opportunities. The first look or the moment when the bride and groom see each other prior to the ceremony is one of these moments. However, I will say it's about 50/50 if a couple does a first look prior to the wedding ceremony. Sometimes it's a must because of schedule or sometimes a couple wants it to be a personal moment (with me watching, lol). Don't be afraid to choose a special spot that means something to you.
One of my best first looks was with Erin and Stephan. They both were grad students at The Ohio State University. It was a completely snowy day for a December wedding. Erin was a trouper and still wanted the outside photos. She had a faux fur white wrap to finish off the photostyle of her beautiful wedding dress. I brought in a second photographer for another angle. We lined each up across the oval with their backs turned. Then at once, we let them turn and began walking towards each other. The photos were great and I am sure it was special for them.  End result we captured a photostyle moment to remember and made a great cover for their wedding album.
5. Memorable mementos.
Creating emotional triggers to a photo is a key element in telling the story of the wedding day. Having a memento specifically for the day is a great opportunity to have a detail element to bring in emotion and photostyle to your photos. The common one is the combining of jars of sand during a ceremony. But for me, I always like the ones that are more personal and creative. The simplest is writing letters to each other to open before the ceremony. A gift with a note is special but the message is what always gets the tears flowing. Also don't be afraid to send it over early in the morning. I find for the ladies there is more time in the morning to really it look over versus at the church.
If you are a little more creative, I had a couple write notes to each other and place them in a wooden box. During the ceremony they placed the notes inside and nailed it shut. The goal was to open on their 50th anniversary, or if the marriage was ever in trouble they would open it then. The notes would help them remember a special day together and what that day meant to both of them.
There are brides tearing up already.
6. Let's talk Fonts
Font choice can directly reflect your photostyle. There are many fonts that come with your computer or ask your invitation designer for some ideas. Also there are many sites that offer free fonts to use if you are designing yourself. Choose a font that says romantic, modern or rustic, whatever your style is. Once you pick a font use it in everything. Think of all the printed items for your wedding day: Invitations, place cards and signs.
I personally love photographing the place cards with a bride's new last name. It's a great background element for a wedding album plus it's one of the first times she will see her official new name that day which makes for a great emotional attachment to the photo. A photostyled font brings the style into the photographs and wedding album.
7. The Shot List
Couples always ask if I need a list of shots they want. If I say yes, I usually will get a cookie cutter shot list that they downloaded from the internet. You know what I am talking about. It's the same list in the big wedding binder the bride carry into every vendor meeting. That list is ok, but the list I want is what's special to you. Let your photographer know you are wearing grandma's pearls or your veil is a family heirloom.
A popular tradition is the pinning of a family member's wedding ring inside the dress. Without the list, I might not even know it's there.
Think about what is special and unique and use that to create the list you send to your wedding photographer.
8. Brides wedding day make-up
This could, and will be, a whole other blog in the future. Not every bride is comfortable with having make-up on nor actually doing make-up herself. A professional make-up artist is worth the money and will mean one less thing you worry about during the wedding day. Also, a professional will have a better eye for matching skin tones. For my staff, skin tones are critical. The less time we spend blending tones and colors, the faster the images can be delivered. Please be sure to ask your professional what make-up they will be using and is it good for photography. Not every cosmetic brand photographs the same. Also, different lighting changes the color slightly and brands react differently. Don't worry most can be fixed in Photoshop, but our goal is to look the best right off the camera.
9. Smile pretty
Ok, a little cheesy, but you know where I am going. Every photographer is a little different on this. Some will just have you smile with every shot until your checks hurt. I personally will look at a couple and see what fits the lighting, pose, and their personalitys. Some couples can pull off the magazine-ish stern romantic look. While other couples need more of a fun look. It really depends on what style we are going for.
I always do a pre-wedding shoot with every couple. I will tell them to smile for some and look serious for others. It lets me start to get an idea of what works best. Plus, I tell my couples to look at the photos online and see what they like. Don't be afraid to try a few looks out in the mirror. It's your day to be a model and enjoy the photo shoot.
10. Have fun
I am betting if you are reading this you wanted more from your wedding photos. You did not just hire a photographer to shoot family photos and go home. Enjoy the process of getting the photos taken. Enjoy the moments of being pampered and the focus of a camera. Have some fun with it, and don't be afraid to be overly dramatic. I promise the more emotions, happy or tears, in a photo, the better it is.
11. Cousin Bob
I totally understand every wedding has different budgets, and every couple has a different priority for wedding photos. There will always be the family member or friend looking to get into wedding photography who will offer to photograph your wedding for free. However, keep in mind that after the wedding day, there will only be one thing that will help you remember your entire wedding day: your photographs. Just because Cousin Bob is doing a great job with some kids' portraits or your cousin's senior photos look great, a wedding is a one time, no do over and a fast paced event. Plus, we are talking photostyle here. Not many photographers just starting out have really developed a style yet. So tell cousin Bob he is more than welcome to bring his camera to get some portfolio samples, but you would much rather have him enjoy the wedding as a family member rather than have to work the event.
12. Give yourself time
Let's face it; your wedding photos will take a while to do. Tell yourself no matter how long they take this is what I will have to remember the best day of my life, so far. Work with your photographer to set a schedule of the day to allow multiple photo shoots. The real key is your guests do not have the same desire as you to have perfect photos. Get the family photos organized, shot and get them done fast. Let the guests go to the reception and mingle. This way you and the bridal party can get to the fun photos. Also talk to your photographer about getting some photos done prior to the wedding. There are so many individual and group photos that can be done and allow you to get the full bridal session day faster while not being rushed.
13. The perfect wedding day portrait
No matter the style, the key to that perfect wedding day portrait of the bride and groom is lighting, lighting again and interaction. The phase I tell my brides is to melt into the groom. That is how close I want you, in addition to looking relaxed and taken care of. Your photograph needs to show how perfect you both are for each other and how you feel about the day. Kiss, hold hands, and just interact with each other.
14. Stay together
Some of my favorite wedding photos are the fun, laughing, and little stolen moments during the reception. Remember prior to this the only photos of the bride and groom together might be the bridal session. So this is the first chance for a real photo journalistic look at the couple together or also called the candids. If at the reception the bride and the groom are at opposite sides of the wedding venue, these shots can be a little tough. Don't worry. There is no need to be locked together the entire night, but the beginning of the evening is perfect.
15. Hug your grandparents
I have made this comment on prior blogs. Take a minute and go to the tables with some of your guests that don't get to the dance floor. Many times these are your grandparents. Call the photographer over to take a nice photo of you with them. Unfortunately, I have received too many calls and emails just after a wedding crying and asking if I had these photos.
You will be pulled aside all night for photos and selfies. Make sure your photographer is taking some of these as well. Receptions are dark and many phone cameras don't do the best with these images.
I love using a few of these in the back of an album to really show how much fun the wedding reception can be.