To a new bride and groom the task of finding a quality wedding photographer can be a little overwhelming. There is really so many factors to consider from budget to style. When I sit down with any new bride and groom I really emphasize my style, which comes from my background of years of fashion and editorial advertising. It is important for couples to think about the style of work that they want to see from their wedding photographer. To help, my friends over at SimplyBridal.com, emailed a great chart I though I would pass along.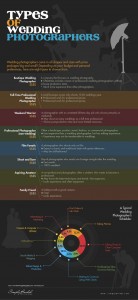 Looking for a Columbus Ohio Wedding Photographer?
Take a look at my wedding packages and email or call for a quote.